Polymerized Rosin
This product is made of gum rosin through a new technology of sulfuric acid and zinc chloride.
1, Properties:
Polymerized rosin is a modified products of gum rosin, contains abietic type acids. It has a series of exellent properties such as higher softening point, non-crystalline, good oxidation-resistance, higher viscosity in organic solvent.
2, Specifications: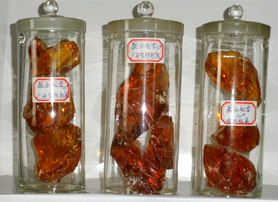 Softening point (R.& B),°C
Insoluble matter in alcohol
Dissoluble matter in hot water
3, Application: Mainly used in inks, Adhesives, paints, Varnishes, Soldering fluxes, synthetic resins etc.
4, Packing: In galvanized iron drum of 220 kgs net each.