Rosin Nitril
1, Properties:
This product is a derivative from gum rosin, yellow, waxy semi-solid, viscous liquid, soluble in common organic solvents, such as alcohols, ethers, hydrocarbons and chlorizated solvents; soluble in cold water, but soluble in hot water slightly.
2, Specifications: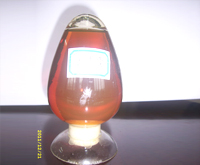 Refractive index

3, Application: Mainly used in manufacture the rosin amine, as well as a stabilizer and plastcicizer in filmformers, an auxiliary agent in textile industry and an additive in lubricants.
4, Packing: In 200L iron drum or 200Kgs net each.